Anti-wrinkle injections using Botulinum Toxin A can treat and prevent skin creases and lines.
All anti-wrinkle injections provided at our clinic are carried out by aesthetic doctors using the latest techniques. They work to reduce face wrinkles by relaxing the muscles that would normally cause the skin to crease.
Patient Result 1
Example treatment of a patient who visited The Treatment Rooms London to treat her forehead lines. Across all our clinics we prefer to attain a look you would like to have from anti-wrinkle injections. This patient who mentioned she wanted to have her lines softened but not completely ridden of has achieved the look she was going for after planning  treatment with our Doctors.
Patient Result 2
To ensure you reach your aesthetic goal, we will review your progress within two to three weeks. This allows us to provide any further treatment, address your concerns or ascertain whether a free top up is needed.
Anti-wrinkle injections can be used for the prevention or treatment of skin wrinkles. To see more examples visit our gallery.
Click HERE and contact us today to book your consultation.
Read our blog on anti-wrinkle injections HERE. 
What can I expect from my consultation?
The Treatment Rooms' doctor will hold a thorough consultation exploring your concerns and establish a treatment plan that is best suited to you. In cases where you are completely happy with your treatment plan, you may receive your first course of BOTOX® injections on the same day.
Are the injections painful?
The injections may cause mild discomfort and there may be some soreness at the injection site after treatment. A numbing cream will be applied to these sites beforehand to help reduce the pain.
How long does the treatment take?
The injection process will only last a few minutes. Before this takes place, our doctors will thoroughly assess your facial anatomy to accurately mark the optimal and safest points for injection. In total, your treatment will last for approximately 30 minutes.
How long do the results last for?
It takes as long as three weeks to see the full results of your BOTOX® anti-wrinkle injections. Once you see the full results these will usually last between three to six months, after which you may choose to repeat the treatment.
Are there any side effects or complications?
As with any medical procedure there are always potential complications. As part of your consultation and consent, our doctors will go through the risks involved in your specific treatment, answer any questions you may have and help you come to an informed decision about your care. Our doctors are happy to talk you through the medical knowledge and techniques they use to minimise these risks.
Who cannot have anti-wrinkle injections?
The following people are not suitable for anti-wrinkle injections:
If you have Lambert-Eaten syndrome, Myasthenia Gravis or any other neuromuscular disorder
If you have a skin infection at the site of injection
If you are pregnant, planning on becoming pregnant or are breast feeding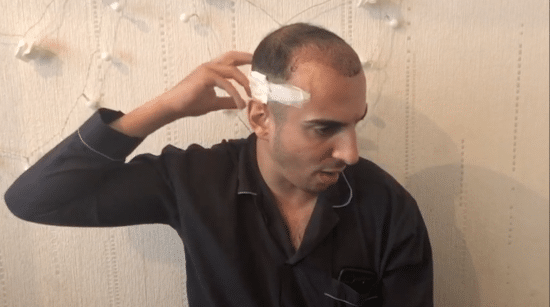 June 20, 2021
What are the main side effects of a hair transplant? This is a common question asked by...