Since its opening, The Treatment Rooms London has been providing Dermal Fillers in Putney and Harley Street giving patients the latest in facial harmonisation and rejuvenation. An increasing number of patients are asking about fillers, so we wanted to write a blog about what Dermal Fillers are and how they can be used by our Doctors to roll back the years of ageing.
What are dermal fillers?
A dermal filler is a treatment that uses hyaluronic acid (a naturally occurring ingredient in the skin) to restore volume & shape to certain areas of the face. However, our Surgeons use careful knowledge of a patient's facial anatomy to avoid danger zones for when injecting dermal filler. Together with advanced techniques our Doctors take every step to make sure the treatment is as safe as possible.
What does dermal mean?
Your skin is made up of 3 main layers. The second layer is called the dermis. This contains collagen, elastin and hyaluronic acid- the three main ingredients to give you plump, hydrated and healthy skin.
In young skin, collagen, elastin and hyaluronic acid create a supporting structure for healthy young skin as shown in the diagram above. As you age age, collagen, elastin and hyaluronic acid all break down. As the underlying structure is lost, your skin surface starts to sag whilst also becoming dry and wrinkly.
This process can be reversed by replenishing the dermis with hyaluronic acid in the form of filler, hence the name "dermal filler". The filler over time also stimulates fibroblasts to produce elastin and collagen. These are both integral to youthful skin- so the beneficial effects actually last longer than you think!
Are dermal fillers permanent?
As hyaluronic acid is a naturally occurring substance in your skin, your body breaks down the dermal filler over time. This means you won't have permanent results-  making it a safer treatment. If you wanted the filler to be gone sooner we can even dissolve the filler, so you won't be stuck with an outcome you are not happy with.
Some permanent dermal fillers do exist, but these are used far less now given the risk of complications and the potential of being left with a result you are not happy with!
What is the latest in dermal fillers?
As a leading clinic, The Treatment Rooms London always looks to deliver the very latest in injectable treatments. Thee way we use dermal fillers has changed.
In youth, similar to the diagram above, we have bones and deep fat pads which give our skin a strong structure. As you age, some of these bones change shape and the deep fat pads dissolve away (2). This makes the skin overlying the bone and fat start to sag. The new philosophy of advanced facial rejuvenation, is to replace these structures using a volumising dermal filler injected below the dermal layer. Using good quality dermal fillers allows you to create a profound lifting effect from the top of the face. This also reduces facial wrinkles downstream in the lower part of the face.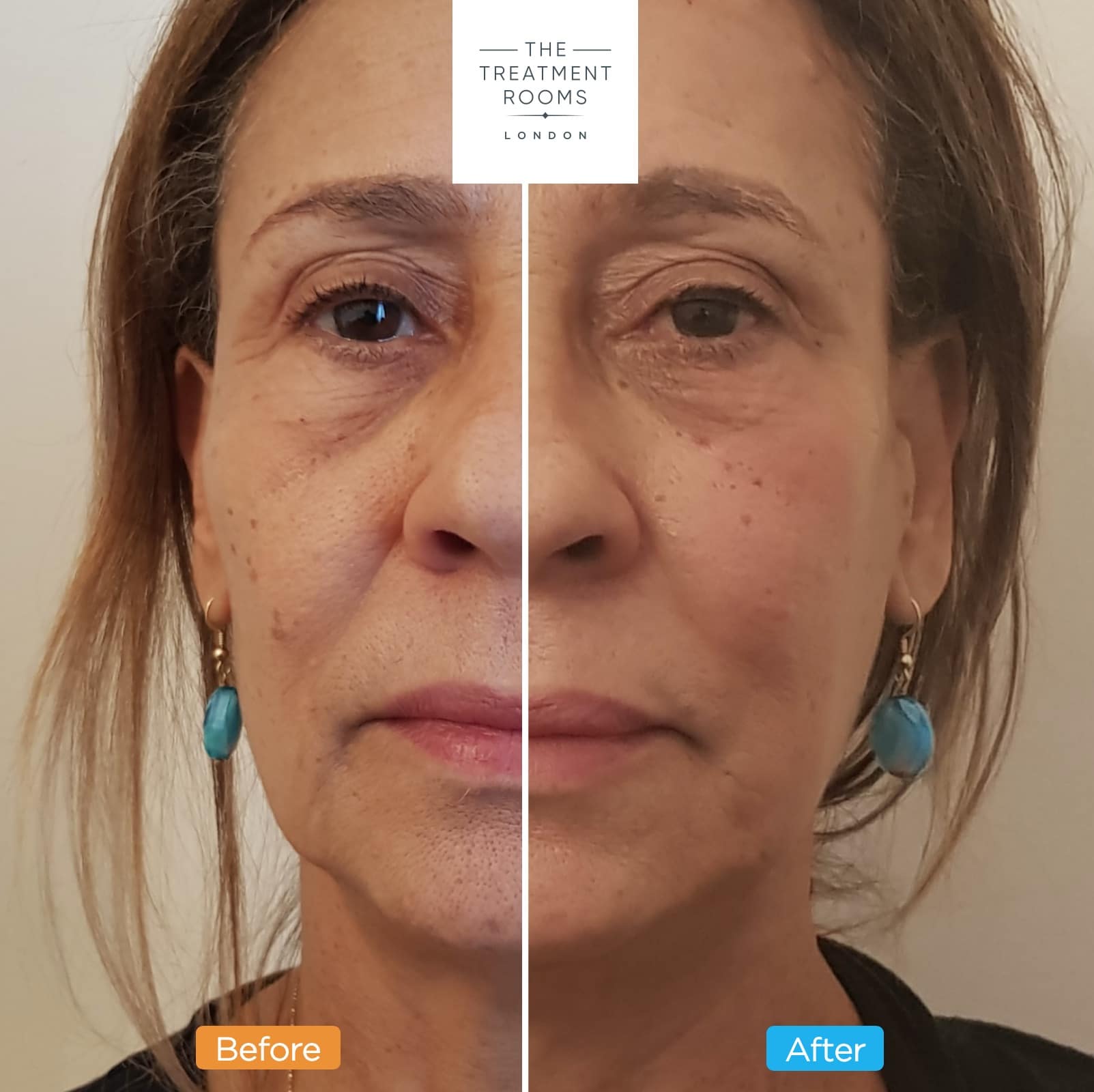 In the dermal filler before and after photo above, the lady had lost volume in her cheeks due to the ageing process effecting her cheek bones and deep fat pads. Her main worry was looking tired even though she was well rested. By using dermal filler we have helped to restructure the cheek bone and replace volume in her cheek fat pad. As you will see, this has helped to give her more shape and colour in her cheeks as well as reduce the appearance of her nose-mouth lines. In general, she looks less tired, fresher and more rejuvenated.
Am I suitable for dermal fillers?
There are some reasons why you should not have dermal fillers for example if you are pregnant or breast feeding. Importantly you should explore all your concerns and what you would like to achieve by having dermal fillers with your Doctor. This is the only way of finding out if you are suitable for dermal filler treatment.
If you haven't read our previous blog around Botox® and dermal fillers being provided in Superdrug  please consider 4 points before undergoing the procedure.
Understand what Botox® and Dermal Fillers are
Find out who is going to perform the procedure
Plan your treatment goals with your practitioner
Take time out to think about the treatment before saying "yes!"
You can read more about these considerations by clicking here.
At The Treatment Rooms London our Doctors would welcome you to come and have a consultation around the ageing process. That way you can prepare for the future by taking steps to address any concerns now.
If you would like to find out more, book a free consultation with one of our Aesthetic Doctors 
(1) https://www.webmd.com/skin-problems-and-treatments/picture-of-the-skin#1
(2) https://www.ncbi.nlm.nih.gov/pmc/articles/PMC3404279/
(3) https://www.nhs.uk/conditions/cosmetic-procedures/dermal-fillers/