Unregulated Hair Transplant Clinics
An increasing number of patients are coming in to see us to correct hair transplants that have been performed poorly. It is disheartening to see these patients. Their suffering affects all our staff from our nurses to our surgeons as we take pride in being able to provide high quality hair transplants. As a result we wanted to write something to increase awareness about going to an unregulated hair transplant clinic.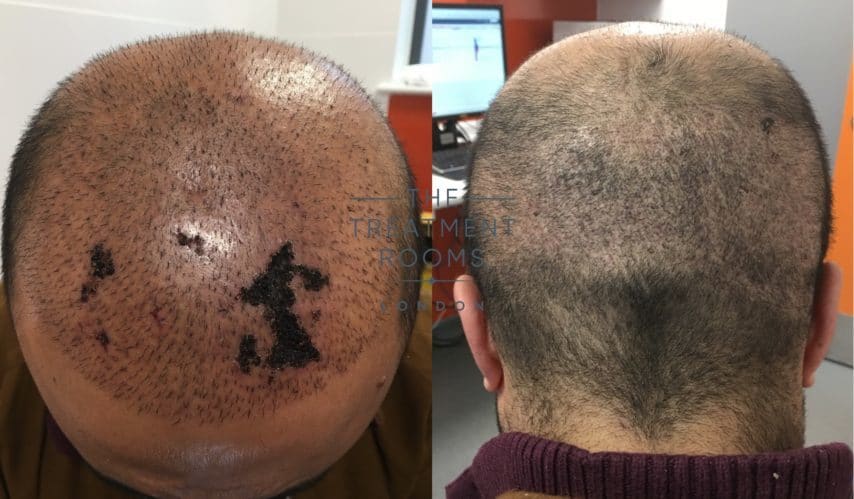 A Disastrous Case
In the above the picture, the gentleman had his hair transplant two months prior to presenting to The Treatment Rooms' Doctors. He complained of having the following:
1. A wound on the top of his head.
2. Worried that his transplanted hairs would NOT have thick enough coverage.
3. Soreness at the back of his head and poor skin healing at his extraction site.
One look and our Doctors knew he was in trouble. He was suffering because:
1. The black areas on the top of his head were dead skin. This is skin necrosis and is possibly the worst complication of hair transplant surgery. It occurs when surgery is performed poorly. These areas will eventually scar and no hair will grow there. The chance of hair ever growing there is very slim (1). He may even need a further operation to cut away the dead skin.
2. The transplanted hairs are far too spread out and his eventual result will likely be thin coverage. This did not meet his expectations of a full thick set of hair following a hair transplant. The issue here is likely at the consultation stage of the treatment process.
3. The area at the back of his head, where hair was extracted, is suffering from widespread hair loss (also called shock loss). There is also poor healing where the surgeon has over-extracted hairs from the donor site. This may result in large areas of scarring at the back of the head which will be noticeable.
What happened?
This patient went to a hair transplant clinic that is unregistered and unregulated by the CQC and other professional bodies (e.g. GMC). He tried to contact his surgeon repeatedly but was refused a consultation and started to have his calls ignored. Upon inspection of the clinic's website, there was no information on the team or surgeon and their experiences in hair transplant surgery. In addition the clinic itself was not registered under any professional regulatory body so the surgeons could not be held to account if they provided low quality surgical care.
At The Treatment Rooms London, we make it clear, the lines of communication with our surgeons are always open. Doctors and Surgeons ignoring patients can never happen and we were sad to hear this is happening.
The patient was made to pay a certain amount of money up front and then a second amount on top of this as the clinic provided an extra treatment that was not agreed upon. The patient in his own words explained the clinic had "killed my hair". The clinic that he visited clearly did not answer all his questions prior to having surgery, did not explore his expectations of what could be achieved with a hair transplant and failed to take clear consent for the treatments that were going to be provided.
With this gentleman's balding pattern it would be very difficult to attain a high density of hair all over the scalp as this would essentially require the surgeon to remove all of his hair at the back of the head. Overpromising results is common in unregulated hair transplant clinics who then go on to perform dangerous transplants that ultimately cause harm to patients as seen in this case.
Be careful of those clinics that are out for the "quick sell" and over promise the result they can achieve for you.
Why is a regulated clinic so important?
Going to a hair transplant clinic that has a Surgeon who is GMC registered and operates in a CQC approved location is incredibly important.
By being GMC-registered, the Surgeon is held to the institution's high codes of conduct and expectations when it comes to patient care. This means that as a patient, you can feel safe that you are being treated by a Surgeon who is regulated by a larger organisation. Secondly, a hair transplant surgeon can be a member of the British Association of Hair Restoration Surgeons or International Society of Hair Restoration Surgeons– both organisations ensure their members operate and treat under their strict codes of conduct. Check your surgeon is a member of these institutions- you can be assured that you are being seen by someone who values good quality care and practices ethically.
The CQC (Care Quality Commission) is the UK's independent regulator of all health and social services. They ensure all clinics and hospitals run health services safely and provide patients high quality care. If you visit a clinic that is not regulated by the CQC, be mindful that they may not hold in high regard the same level of precision, safety and quality as would be expected of a CQC-registered clinic.
So what next for the patient?
With skin necrosis you need to have it treated immediately. We advised him to go and see his original Surgeon straight away and if they refused to see him then he will need to be admitted to hospital. He will need a further operation to cut out the dead skin and repair the scalp.
His area of skin damage will scar and will not grow any transplanted hair. After it heals he will need to consider how he can conceal the area, for example by combing hair over it. In some cases fat grafting may be considered to make that area amenable to a future hair transplant. However despite this option, the likelihood of permanent scarring and balding is high. This is undoubtedly not what the patient was expecting after agreeing to have treatment for baldness.
Our message to all patients looking to have a hair transplant is:
A hair transplant is not a simple decision and you must think carefully about who will be performing the procedure. The results of a transplant are permanent so you shouldn't cut corners when choosing a clinic and surgeon. Make sure you have a read of our blog on the 5 considerations you should take before having hair transplant surgery.
Secondly, there are many other treatments apart from FUE hair transplant surgery. Explore all of them so you can be sure you have chosen the best treatment suited to your needs.
References
(1) https://www.ncbi.nlm.nih.gov/pmc/articles/PMC4536882/
(2) https://www.ncbi.nlm.nih.gov/pmc/articles/PMC4212293/
(3) https://www.nhs.uk/conditions/gangrene/
(4) https://www.khaleejtimes.com/news/uae-health/Cheap-hair-transplants-abroad-are-risky-warn-UAE-health-experts
(5) https://www.menshealth.com/uk/style/grooming/a25734373/hair-transplants-complete-guide/
(6) https://www.aa.com.tr/en/health/turkey-top-choice-for-hair-transplants-in-europe/1361995