John Travolta recently embraced being fully bald- posting a picture on Instagram of him "rocking the look". And recently in the news an MP was, unfortunately, "ridiculed" for wearing a wig in the House of Commons. With an increasing number of gentlemen looking for hair loss treatment, such as FUE hair transplants– at what point do you embrace baldness?
Baldness
Becoming bald is a natural process of ageing. Becoming bald is a natural process of ageing. For decades we have looked for the one and ultimate cure for male and female hair loss. With FDA and MHRA-approved treatments like Finasteride and Minoxidil; there are proven hair loss treatments for both men and women.
At what stage would you say you are bald? Baldness has several different stages- as represented by the Norwood Scale for men (picture below).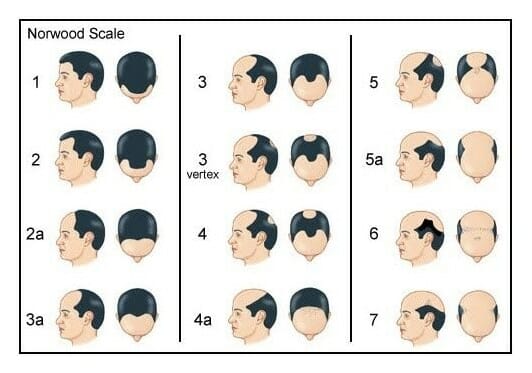 We would describe complete baldness as stage 5a-7, where you have lost all of your hair on the top of your head (if you are male). However, at each stage, you can describe yourself as going bald.
If you decided to start hair loss treatment when you are at stages 1-5 there is a good chance of being able to restore your hair on the top and crown. The choice of your treatment will depend on a number of factors. Ideally, a combination of finasteride, minoxidil and hair transplantation could be an option for you.
If you are stage 5a-7 you have three main options:
1- Have an FUE hair transplant– this is dependant on how much hair you have left on the back and sides
2- Have scalp micro-pigmentation that will give you the illusion of dense short hair
3- Embrace baldness!
Embracing baldness- what does this mean?
Some gentlemen who we find coming to The Treatment Rooms London are content with not undergoing treatment for their hair loss. They would prefer to style out their baldness. At The Treatment Rooms, we have always been led by our patients on their preference for treatment or not. If you prefer being bald and it suits you then why would you bother choosing to have treatment?
Embracing baldness is more a paradigm shift in thinking and perception than it is acceptance. Acceptance suggests that becoming bald wasn't a choice but it just happened without giving you the chance to do something about it. In reality, there are so many treatments now available that in the 21st century you now have a choice about whether to embrace baldness or not.
Finasteride
A medication that helps to stop any more hair loss and freeze-frame your existing hair loss pattern. Who is on this treatment?
Donald Trump's famous hair has always caught the media headlines. It is widely rumoured that Donald Trump takes Finasteride. Not convinced of his results? Check out some of the hair regrowth results we have managed to achieve at The Treatment Rooms London in our gallery.
Minoxidil
This is a solution, shampoo or spray you apply to your hair. It helps to promote the blood supply to your hair and makes your hair thicker.
Hair Transplantation
The Treatment Rooms London is one of the UK's premier hair transplant centres, specialising in hair restoration surgery. Thousands of gentlemen choose to have the procedure including rumours about well-known celebrities having undergone the treatment too:
References