At The Treatment Rooms, we are aware that hair loss in women can severely affect confidence and self-image.
It is an issue which is very common with as many as one in three females experiencing hair loss as some point in their life. It is particularly common after pregnancy and menopause.
There are many causes of female hair loss, so establishing the correct diagnosis at an early stage is very important for treatment. As with male hair loss, androgenic alopecia is the most common cause of hair loss in women.
How does FUE transplant work?
Androgenic alopecia in females is the result of Dihydrotestosterone (a by-product of testosterone) acting at your hair follicles to make them shrink and fall out. This typically results in female pattern baldness.
However, the pattern in which balding occurs in women is different to men. You may find your balding pattern fits a description below:
Thinning at the back of the scalp
Predominant thinning at the front of the scalp
Thinning at the front as above but also with frontal hairline recession
Depending on the cause, female hair loss can be either temporary or permanent. We, therefore, advise that you see us at The Treatment Rooms without delay. That way we can fully explore your hair loss and how it is affecting you.
As part of our thorough assessment we will investigate possible causes for your hair loss, advising on lifestyle changes and treatments which may help reverse or reduce hair loss.
Are there any other causes for female hair loss?
Although testosterone driven (female pattern hair loss or androgenic alopecia) is the most common cause for female hair loss there are some other diagnoses you need to be aware of:
Anaemia (check your iron, vitamin B12 and folate levels)
Polycystic ovary syndrome – can result in hair loss on the head and hair growth in other (normally hair free) areas
Overactive thyroid disease
Lupus erythematosus
Acute or Chronic telogen effluvium – where more hairs shed than grow, often because of physical or psychological stressors
Alopecia areata – where patches of hair are lost because of your immune system overreacting to your hair
Traction alopecia – tying the hair tight or wearing heavy hair extensions can pull on the hair roots and damage them
Trichotillomania – repetitive hair pulling due to psychological stress
Inflammation causing hair loss at the front e.g. Lichen planopilaris and frontal fibrosing alopecia
It is important you are seen by a hair loss specialist to check you don't suffer any of these potential diagnoses.
What are the treatment options for female hair loss?
At The Treatment Rooms, our focus is on creating treatments plans which take into account your long-term goals for your hair. This is most important when considering permanent female hair loss. Our doctors work closely with specialist trichologists to advise on treatments that will help reduce the effects of balding. Some medical treatments that we can choose from include Minoxidil and PRP injections depending on the cause of your hair loss.
Hair restoration surgery can be used to improve your cosmetic image. Using our latest FUE surgical techniques we can replenish hair lines, hair partitions or focal areas where the thinning is most established. The procedure is associated with minimal downtime and with our no-shave technique we provide you with additional discretion.
If you wanted to find out more about female pattern hair loss- read our blog on the topic by clicking here.
A Simple Process That Will Put Your Fears to Rest
We take every effort to ensure you to feel as comfortable as possible during the entire process. Our philosophy is to give each patient a personalised care experience.
1. A Consultation with our surgeons
We'll explain the full process and perform a digital microscope assessment of your hair. No hard sells whatsoever.
Surgery is often performed in 1 day and you are able to go home after the procedure.
We're always available even after the consultation and operation for any further questions you may have as your new hair grows.
FUE hair transplant surgery at The Treatment Rooms London
The Treatment Rooms London is a CQC registered clinic based on the prestigious Harley Street as well as Putney. Our surgeons perform every single hair transplant making sure your transplanted hair is given the greatest opportunity to grow. This professional service is why patients across the world have trusted us with the long-term care of their hair.
At consultation our surgeons will examine your hair with a microscope and create a hair transplant plan to cater for your needs.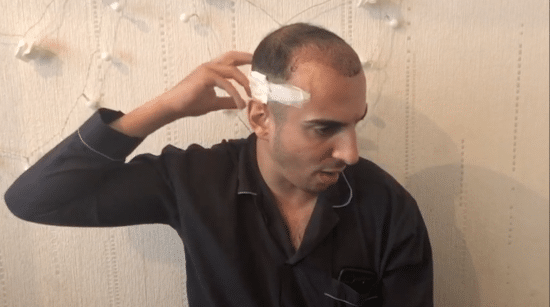 June 20, 2021
What are the main side effects of a hair transplant? This is a common question asked by...