Male hair loss is extremely common with almost 50% of men experiencing some degree of hair loss by the age of 50.
At The Treatment Rooms, we understand your hair is crucial to your appearance and hair loss is a common source of worry. Whether it be medical treatment or hair restoration surgery, we place the utmost importance in helping you attain your desired look.
We understand that hair loss (also known as alopecia) affects people differently. There are various medical and lifestyle causes of hair loss. In men, the most common cause is testosterone and its effect on your hair (also known as androgenic alopecia or male pattern baldness). If you wanted to read more about the male pattern baldness then please click here.
You may be experiencing one or multiple of forms of hair loss. The Norwood Scale shows what stage of hair loss you have and how male pattern baldness can progress.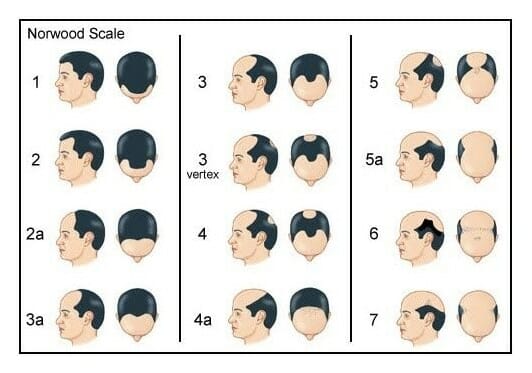 Male hair loss treatment- what are your options?
The underlying principles for hair transplant surgery are the same for both males and females. Hairs at the side and back of the head are resistant to the balding process and remain for life. These hairs can be taken out and re-implanted into balding recipient areas. These recipient areas are often:
- Medical Treatments (e.g. Finasteride and Minoxdil) - for more information about these treatments in our clinic click here
- Hair Restoration Surgery
Hair restoration surgery (Hair Transplantation)
Your hair loss commonly occurs due to the effect of DHT on the hair follicle. However, DHT has less effect on the hair follicles at the back and sides of your head. These hairs on the side and back are therefore resistant to the balding process. Hairs that are transplanted from the back or side to the top of your head continue to show resistance to DHT. This makes your transplanted hair a long-term solution for covering areas of existing hair loss.
There are two main surgical procedures used to perform a hair transplant- Follicular Unit Excision (FUE) or Follicular Unit Transplantation (FUT). At The Treatment Rooms, we provide Follicular Unit Extraction (FUE) as our main hair restoration surgery technique and our surgeons will talk you through both types of surgery during your consultation.
Our clinic provides hair restoration surgery for the following:
Scalp hair transplants
Beard transplants
Eyebrow transplants
At The Treatment Rooms, we take great care to learn how your hair loss is affecting you and explore how it is likely to progress over time. On this basis, we establish tailored treatment plans considering the long-term goals for your hair. Should hair restoration surgery be an option for you, we will ensure you have all the details required to make an informed decision.
Take a look at our dedicated hair transplant cost page for more information.
Hair regrowth following 5 months of treatment
A Simple Process That Will Put Your Fears to Rest
We take every effort to ensure you to feel as comfortable as possible during the entire process. Our philosophy is to give each patient a personalised care experience.
1. A consultation with our surgeons
We'll explain the full process and perform a digital microscope assessment of your hair. No hard sells whatsoever.
Surgery is often performed in 1 day and you are able to go home after the procedure.
We're always available even after the consultation and operation for any further questions you may have as your new hair grows.
FUE hair transplant surgery at The Treatment Rooms London
The Treatment Rooms London is a CQC registered clinic based on the prestigious Harley Street as well as Putney. Our surgeons perform every single hair transplant making sure your transplanted hair is given the greatest opportunity to grow. This professional service is why patients across the world have trusted us with the long-term care of their hair.
At consultation our surgeons will examine your hair with a microscope and create a hair transplant plan to cater for your needs.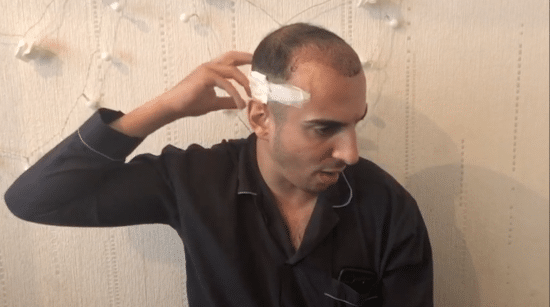 June 20, 2021
What are the main side effects of a hair transplant? This is a common question asked by...