Donald Trump's Hair Transplant Rumours, True Or False?
Over the years, many people have raised questions regarding Donald Trump's political opinions and policies. But, this often controversial former president has also ensured his unique hairstyle has become just as much of a talking point amongst many.
With his unusual front-to-back and side-to-side combover, there has been much debate over whether Donald's hair is actually real. Is it a wig, or even a toupee, or has Mr. Trump resorted to a hair transplant? So popular is this topic that if you type in 'Donald Trump Hair' into a search engine, it will come back with over 67 million results.
As a man well into his 70s, it would certainly seem unusual to have such a full head of hair at this age. Indeed, photos of Donald's brother and father show that they went bald early, so, with a genetic disposition likely, there's a good chance that Donald might have had some work to treat his own hair loss over the years.
While Donald has remained tight-lipped about ever having visited a hair transplant clinic for treatment, and is unlikely to make a confession any time soon, there is mounting evidence that he has had some work done.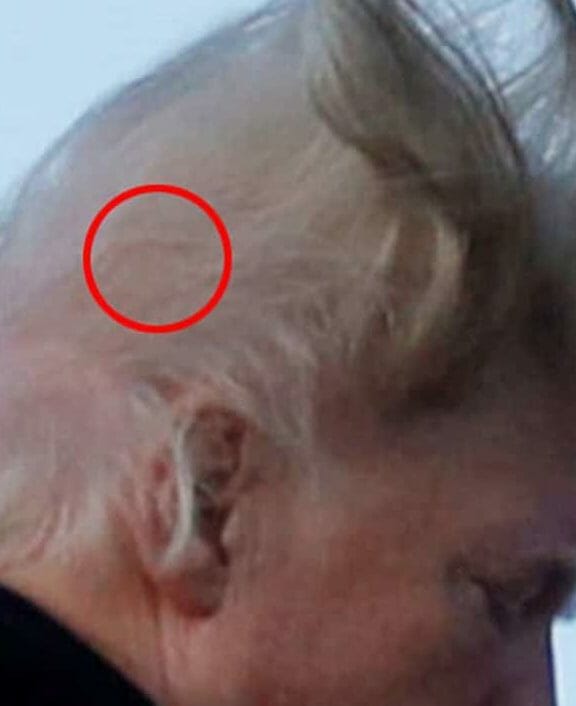 An image of Donald hit by a gust of wind that revealed his hairline showed a prominent incision line on his scalp, which many believe could be linked to previous hair loss procedures. Treatments that cause a scar could include a follicular unit transplant, or FUT, although the position of the scar in Donald's case isn't typical of this form of male hair loss treatment. More likely, Donald could have resorted to a scalp reduction, which was a procedure typically performed during the 1980s to treat baldness, alopecia, or head burns. This treatment involves taking a section of skin from the scalp, so that skin containing healthy hair follicles can be stretched over the head. It is a painful and invasive treatment, with long recovery times.
How to have a hair transplant and avoid looking like Donald Trump?
Thankfully, hair loss treatments have moved on, and the kind that Donald might have undergone some years ago has since been replaced by those that are minimally invasive, less painful, and have much quicker recovery times.
The most common form of male hair loss treatment seen today is the FUE hair transplant, and it's possible that Donald may have undertaken this type of treatment in more recent times. Rather than cutting large areas of skin off the head, creating unsightly hair transplant scars, the FUE method involves taking strong, individual, healthy hairs from the back and sides of the head, which aren't normally affected by hair loss, and transplanting them into areas where thinning or balding has occurred.
With fewer side effects and complications compared to the older versions of hair transplants, the more modern FUE method would certainly suit someone like Donald Trump who has a busy schedule and can be in and out of the hair transplant clinic on the same day.
Find out more about FUE Hair transplants
If you'd like to join the growing list of famous names who have boosted their thinning locks with an FUE hair transplant, our professional team can provide you with all the details you need to know.