How many grafts will you need for your FUE hair transplant? That is not an easy question to answer as it is dependent on your individual requirements as well as the current stage your receding hair is going through.
In this blog, we explore some of the key factors in determining how many grafts are needed for each area. You can also take advantage of our FUE hair transplant graft calculator which will help you gain a better understanding of how many grafts you may need.
What are hair grafts?
A hair graft is a common term used to identify a segment of skin that contains hair. The number of grafts a patient will need depends on the thickness of their hair and the extent of their hair loss, which can be determined by the Norwood Scale below.
During a hair transplant, grafts are usually removed from the 'donor area' located on the back of the scalp and relocated to a balding area. The back of the scalp makes a good extraction area due to the high volume of hair follicles that congregate within that region that are not affected by the balding process. Specialist surgeons will remove a small amount of tissue that can grow hair and relocate it to the desired area of the head without damaging them.
There are two common types of hair transplants and they both depend on the extraction process. An FUE hair transplant, the most popular of the two, involves individual hair follicles being carefully removed from the donor area and transferred to the desired location. An FUT hair transplant is a more invasive procedure whereby a strip of scalp hair is removed from the back of the head. An FUT hair transplant has a longer recovery time, and opens up the possibility of more distinctive scarring at the back of the head.
At The Treatment Rooms London, we provide effective FUE hair transplants that are less invasive than an FUT procedure. Our unparalleled service ensures that our patients are comfortable during the procedure and leave our clinic very satisfied.
Types of hair loss patterns
The different types of hair loss patterns can vary from person to person, but people experiencing male pattern baldness usually tend to lose their hair in an easily identifiable pattern. You can recognise the different stages and patterns of hair loss by utilising The Norwood Scale below.
On a scale of 1 to 7, this system can determine the current progression of a person's hair loss, making it easier for doctors to make an accurate diagnosis and seek out the most suitable treatment options for each individual.
How the Norwood Scale can help predict how many grafts you may require for your hair transplant
With male pattern baldness, hair loss usually follows a predictable pattern outlined by the Norwood Scale. The graph indicates common patterns of hair loss, which are as follows:
The 'horseshoe' pattern starts with hair thinning on top of the scalp and around the temples, resulting in noticeable crown hair loss
Hair begins to recede from the hairline creating an 'M' shape as it pushes the hairline back further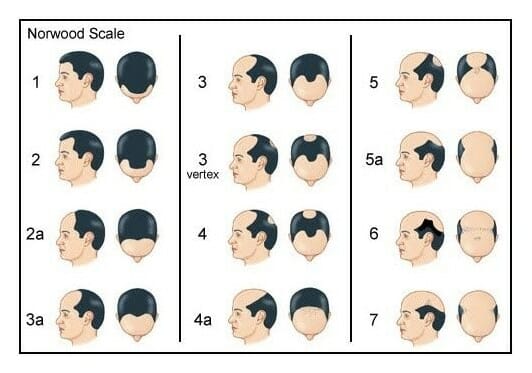 To understand whether a patient would benefit from a hair transplant, a patient must identify how many grafts they require. Once a patient has recognised the type of hair loss pattern they are suffering from, they may be able to get indication of the number of grafts they would need from surgery by using either the Norwood Scale or a hair graft calculator. Please note, any estimates are speculative and consulting with a hair transplant surgeon for an accurate assessment is advised.
The number of grafts needed, according to the Norwood Scale, is as follows:
| | | | |
| --- | --- | --- | --- |
| Norwood Scale | Operation Needed? | Location | Number Of Grafts |
| 1 | No | N/A | 0 |
| 2 | Yes | Temples | 500 – 800 |
| 2a | Yes | Centre | 500 – 800 |
| 3 | Yes | Front and temples | 1000 – 1,400 |
| 3a | Yes | Front and crown | Front: 1000 – 1,400 Crown: 500 – 1000 |
| 4 | Yes | Front and crown | Front: 1,200 – 1,600 Crown: 800 – 1,100 |
| 4a | Yes | Front | 1,700 – 2,500 |
| 5 | Yes | Front and crown | Front: 1,800 – 2,200 Crown: 1000 – 1,500 |
| 5a | Yes | Front and crown | 2,500 – 3,200 |
| 6+ | Yes | Front and crown | Front: 1,800 – 2,500 Crown: 1,500 – 1,700 |
The Norwood Scale compared to the number of grafts a patient will need table
Non-surgical hair loss treatment
Before a patient chooses to get a hair transplant, they should consider non-surgical hair loss treatments as an alternative. There are many options available that can help slow down the process of hair loss and even strengthen hair follicles without having to undergo surgery. This all depends on the current stage of your hair loss.
At The Treatment Rooms London, we offer a range of highly-effective hair loss solutions that do not involve surgery. To revitalise thinner hair follicles we recommend using Minoxidil. We also recommend DHT blockers like Finasteride to slow down and even halt the hair loss process.
If you have exhausted all other options and are in need of a hair transplant, we recommend booking a free initial consultation with one of our expert surgeons to help determine the best course of action.
But before consulting with one of our professionals, we propose using our FUE hair graft calculator before booking a consultation which will give you an indication as to how many grafts you might need and an idea as to the cost of your hair transplant.
Assessing your needs
A hair loss assessment is essential in confirming the number of grafts you need in order to achieve the best hair transplant results, with the right density. During your hair loss assessment at your hair transplant clinic, your hair and scalp will be assessed, and the number of grafts you need will be determined. However, the price and number of grafts depends on the severity of a patient's hair recession.
How many hair grafts do I need
It can be hard to determine how many grafts you will need. That's why we provide an interactive hair graft calculator to figure out exactly how many grafts are necessary. This depends on your age, gender, hair colour and type, and hair loss area. We also provide a hair transplant cost per graft table located on our hair transplant cost page.
Costing up a hair transplant
Whilst hair transplants can be quite costly, it does vary from patient to patient. An accurate estimate is not possible without consulting with a hair transplant surgeon first. As a rough estimate, a transplant may cost the average UK citizen between £3,000-£8,000.
The price corresponds to the total quantity of grafts a patient requires. Once the number of grafts have been resolved, the cost will then be calculated.
You also need to consider that the price may differ as there are many other factors that need to be acknowledged, such as:
Risk of further hair loss
How best to maximise the use of donor hair
Hair type (e.g. straight, wavy or curly)
Hair texture
The density and number of grafts you require
Whether you would like to have unshaven or shaven hair transplant surgery
The final figure will also cover food, ambiance, expert advice, a hair transplant aftercare and recovery package and a follow-up consultation.
Why your hair transplant clinic makes a difference
Remember that when it comes to your FUE hair transplant, choosing an experienced clinic which possesses the right technology, regulated health and safety measures, unparalleled patient experience and leading surgeons can make all the difference.
This is because the best clinics can attain a high hair survival rate using careful precision methods, which adds up to fewer grafts being needed. This is particularly important as you have a finite number of hair grafts at the back and sides of your scalp that can be used in transplantation over the course of your lifetime. Utilising them effectively in a carefully planned operation is important. For this reason we recommend seeing and speaking with one of our hair transplant Surgeons.
How we can help you
At The Treatment Rooms London, we offer an unparalleled service that is tailored entirely to the patients needs. Whether it's making them feel as comfortable as possible during the procedure or our tailored hair transplant aftercare and recovery process we provide following the surgery. Our FUE hair transplant process goes above and beyond, ensuring the patient has the best chance of achieved the results they set out for.
If you think a hair transplant could be the best solution to help you achieve the look you deserve, contact a member of our team today to discuss your surgical options.