Concerns patients raise with us focus around the amount of time taken to heal and get back to work. The pictures below show that there are minimal signs of surgery after 7 days. We advise our patients to get back to work in their own time but certainly to have at least 4-5 days' rest.
How long do FUE results last?
The results of FUE hair transplant surgery are permanent. The initial transplanted hair will shed around 3 weeks after the FUE surgery and then the hair will grow back stronger and healthier in the treated areas over a period of 3-15 months.
We aim to follow up all our patients regularly to see how their hair growth journey is coming along and actively encourage them to send us pictures of their recovery.
To answer any questions around the aftercare involved post transplantation, here are a series of short blogs by a recent patient who underwent an FUE Transplant of 2500 Grafts and our very own Lead Hair Transplant Surgeon, Dr Fernando.
Washing Your Hair After A Hair Transplant
As part of your hair transplant aftercare, The Treatment Rooms will give you a detailed information pack. This will include washing instructions as summarised in the video below.
A Simple Process That Will Put Your Fears to Rest
We take every effort to ensure you to feel as comfortable as possible during the entire process. Our philosophy is to give each patient a personalised care experience.
1. A Consultation with our Surgeons
We'll explain the full process and perform a digital microscope assessment of your hair. No hard sells whatsoever.
Surgery is often performed in 1 day and you are able to go home after the procedure.
We're always available even after the consultation and operation for any further questions you may have as your new hair grows.
FUE hair transplant surgery at The Treatment Rooms London
The Treatment Rooms London is a CQC registered clinic based on the prestigious Harley Street as well as Putney. Our surgeons perform every single hair transplant making sure your transplanted hair is given the greatest opportunity to grow. This professional service is why patients across the world have trusted us with the long-term care of their hair.
At consultation our surgeons will examine your hair with a microscope and create a hair transplant plan to cater for your needs.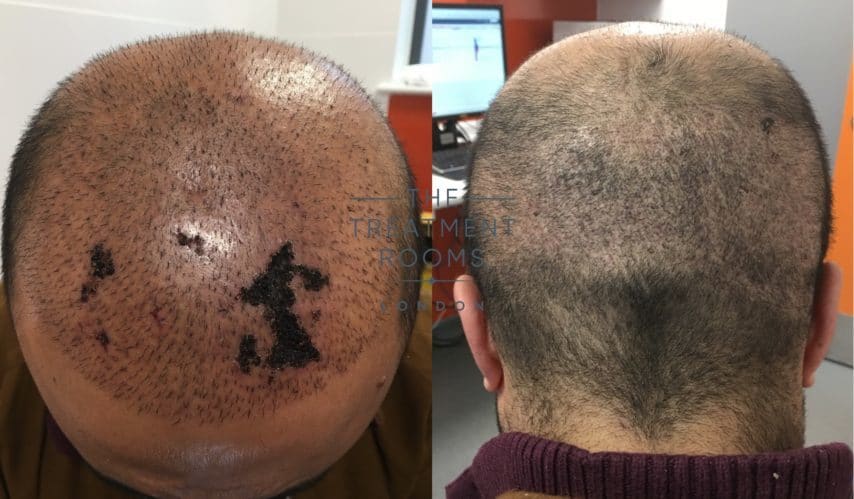 May 6, 2021
Does an FUE hair transplant leave scars? The short answer to this is yes. All current hair...