It was obvious that Lebron James had done something to his hair whilst watching him play basketball over the last few years. Lebron has suffered from male pattern baldness since his early to mid-20s, which is considered early for hair loss.
Experiencing male pattern baldness early, it is possible that he visited his local hair transplant clinic. With hair transplants now affordable to all, famous or not, getting a quality hair transplant isn't as difficult as it once was.
Lebron James hair transplant before and after
The picture on the left is of Lebron following his speculated hair transplant with a full head of hair and no receding hairline. The picture on the right quite clearly illustrates a receding hairline and signs of male pattern baldness.
For someone that is constantly in the public eye and an icon that goes beyond basketball, looking good is part of the job.
Did Lebron James have a hair transplant or use a hairpiece?
It has been debated that Lebron James might use a hairpiece rather than having had a hair transplant. Hairpieces are typically very easy to spot, not to mention, Lebron running around the court without it slipping off doesn't seem feasible.
Hair transplants leave scars of varying types depending on what surgery you opt for. An FUE hair transplant (Follicular Unit Excision) generally leaves scarring with a stipple effect due to the nature of individually removing hair follicles a millimetre in diameter. An FUT hair transplant (Follicular Unit Transplantation) involves removing a strip of the scalp containing hair follicles from a donor area and implanting it in the hair deficient area.
Factoring in the information above, it would appear that, based on the photographic evidence below, Lebron James might have had a combination of the two surgeries.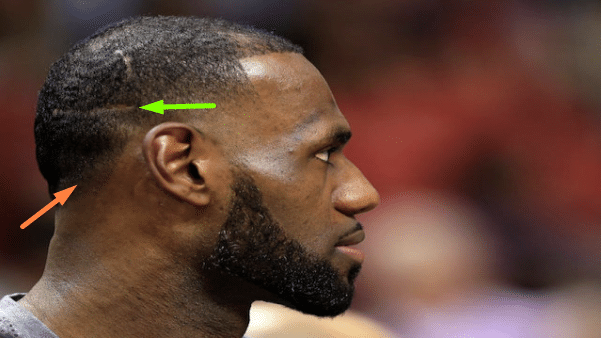 The green arrow appears to be that of FUT scarring. The Orange arrow points towards the back of the head where on closer inspection, there appears to be stippled FUE scarring visible.
How much hair did Lebron James have transplanted?
Top hair surgeons estimate that Lebron James has had close to 2000 - 2400 grafts transplanted into his hairline, with each graft producing 1-4 hairs.
To figure out how many grafts you would need if you were to get an FUE hair transplant, why not try our hair graft calculator.
Google 'Lebron James hair transplant'
If you fancy doing a bit more research, why not search for 'Lebron James hair 2005' and 'Lebron James hair 2008', you will be able to see how his hairline has changed.
In 2008, it is clear to see that his hairline has receded beyond what it was back in 2005 and what it now looks like today.
How can The Treatment Rooms London help you?
Losing your hair can be distressing, a real blow to one's self-confidence. At The Treatment Rooms London, we know that every situation is individual, that's why we ensure that whatever approach we go with, it's tailored to your individual needs. Furthermore, our patient journey is second to none with hair transplant aftercare factored into our pricing structure.
For more information about costs associated with an FUE hair transplant, take a look at our dedicated hair transplant cost page or try our hair graft calculator to figure out how many grafts you might need. Get in touch today if you'd like to book a consultation to discuss how we will be able to help you.
At treatment rooms we specialise in FUE hair transplants, feel free to get in touch to find out more, or browse our other articles for answers to common questions: