Unshaven FUE Hair Transplant (UFUE)
It is possible to undergo an unshaven FUE hair transplant (UFUE) also called a no shave hair transplant. The procedure is almost identical to a regular shaven FUE hair transplant except patients do not need to shave the hair on top and can just have a short haircut on the back and sides. This is particularly beneficial if you are looking to keep your hair transplant a secret from friends, family and work colleagues. If you are concerned about shaving your head because you want to return to work quicker, or prefer having long hair – then this may be a suitable hair loss treatment option for you.
In this article, we will cover the topic of unshaven hair transplants; explaining how they work, outlining the benefits, and discussing who would be a good candidate.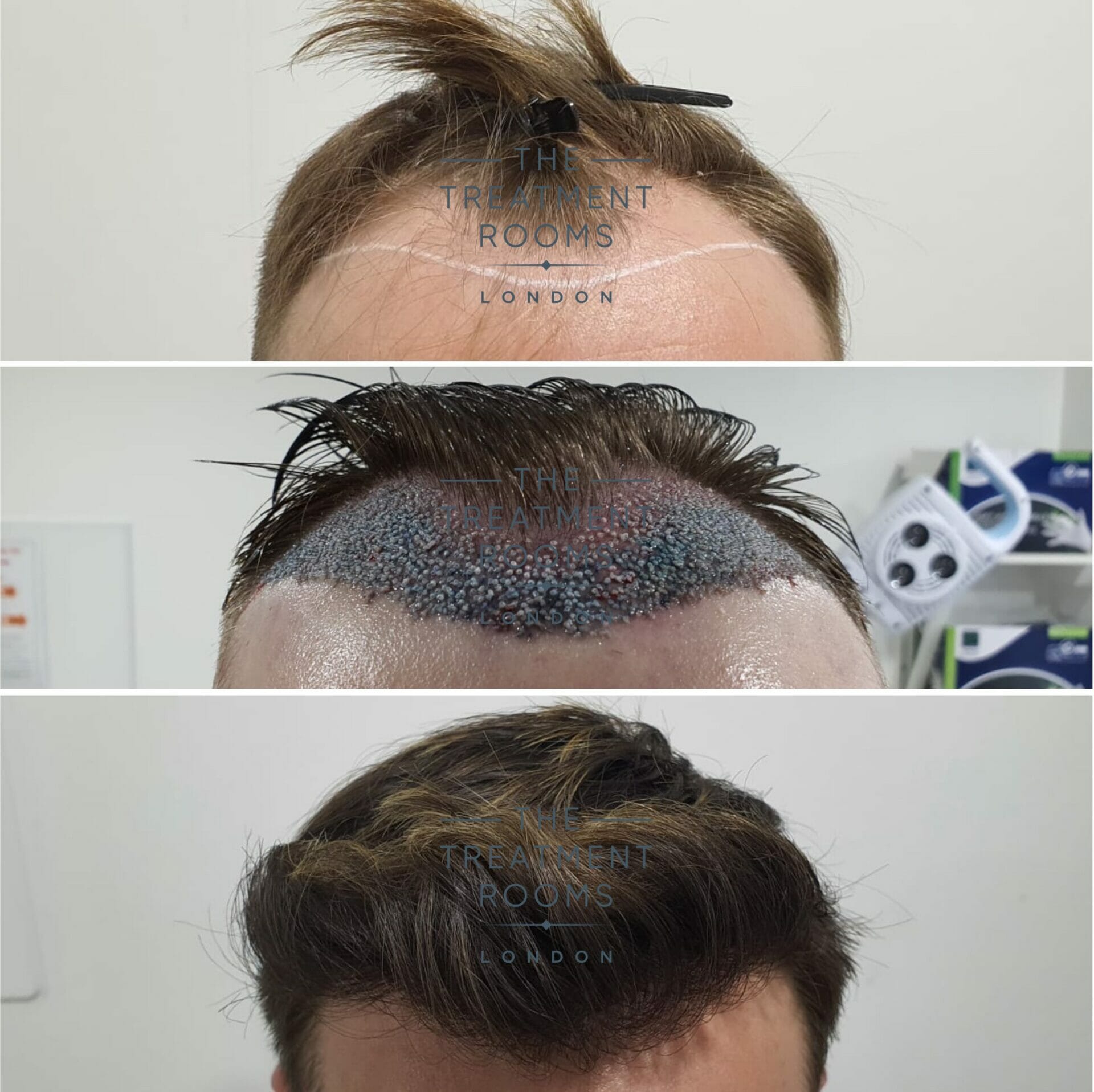 Can you get a hair transplant without shaving your head?
You can get a hair transplant without shaving your head. An unshaven FUE hair transplant (UFUE) is identical to a standard FUE hair transplant, apart from you will have less of your head shaved, or won't need to have your head shaven at all, ahead of the procedure.
UFUE patients can keep their hair mostly or totally intact. There are a few types of unshaven hair transplants, these are summarised below. In all types, part of the donor area, the hair at the back and sides, will need to be shaved with a fade up to length hair on top.
About 40% of our patients request for their transplant to be carried out unshaven as they want to go back to work and social life quickly. For the majority of them this is entirely doable but for some it is a trickier consideration. It is best to discuss this with myself or Dr Fernando as we can guide you around an unshaven hair transplant and its pros and cons

Dr Vara, Hair Transplant Surgeon and Director at The Treatment Rooms London
For patients who do not want to shave their hair at all, we also perform long hair FUE Hair transplant surgery, also called preview FUE hair transplant surgery. In this surgery we are able to keep hair long at the back and sides when extracting hair. Such a procedure is reserved for small cases and you can read more about it here:
Recipient area partial shave
This will require the recipient area to be shaved but keeping hair behind or around the recipient area long so you can comb over and conceal the transplant. This is shown below where the gentleman underwent an unshaven hair transplant to his hairline where he only need to shave a minimal amount into the hairline.
Recipient area no shave
This type of unshaven hair transplant requires no shaving or a minimal hair cut to the recipient area so you have your implanted grafts placed in-between existing long hair. This is shown below in an unshaven crown hair transplant. These types of transplants can be more time consuming and there is a limit on how many grafts can be transplanted in a given day of surgery. However, they do allow for greater discretion for those looking to hide their hair transplant in their recovery.
Donor area minimal shave
This type of unshaven hair transplant requires minimal shaving of the donor area- giving you a short hair cut on the back and sides that fades into length hair on top. This is suitable for patients who are looking to go back to work quickly. Hair on the back and sides will grow to a short respectable length in 7-10 days. This patient who underwent an unshaven hair transplant in our clinic is 10 days post surgery. His healing is almost complete with little signs of surgery in his donor area.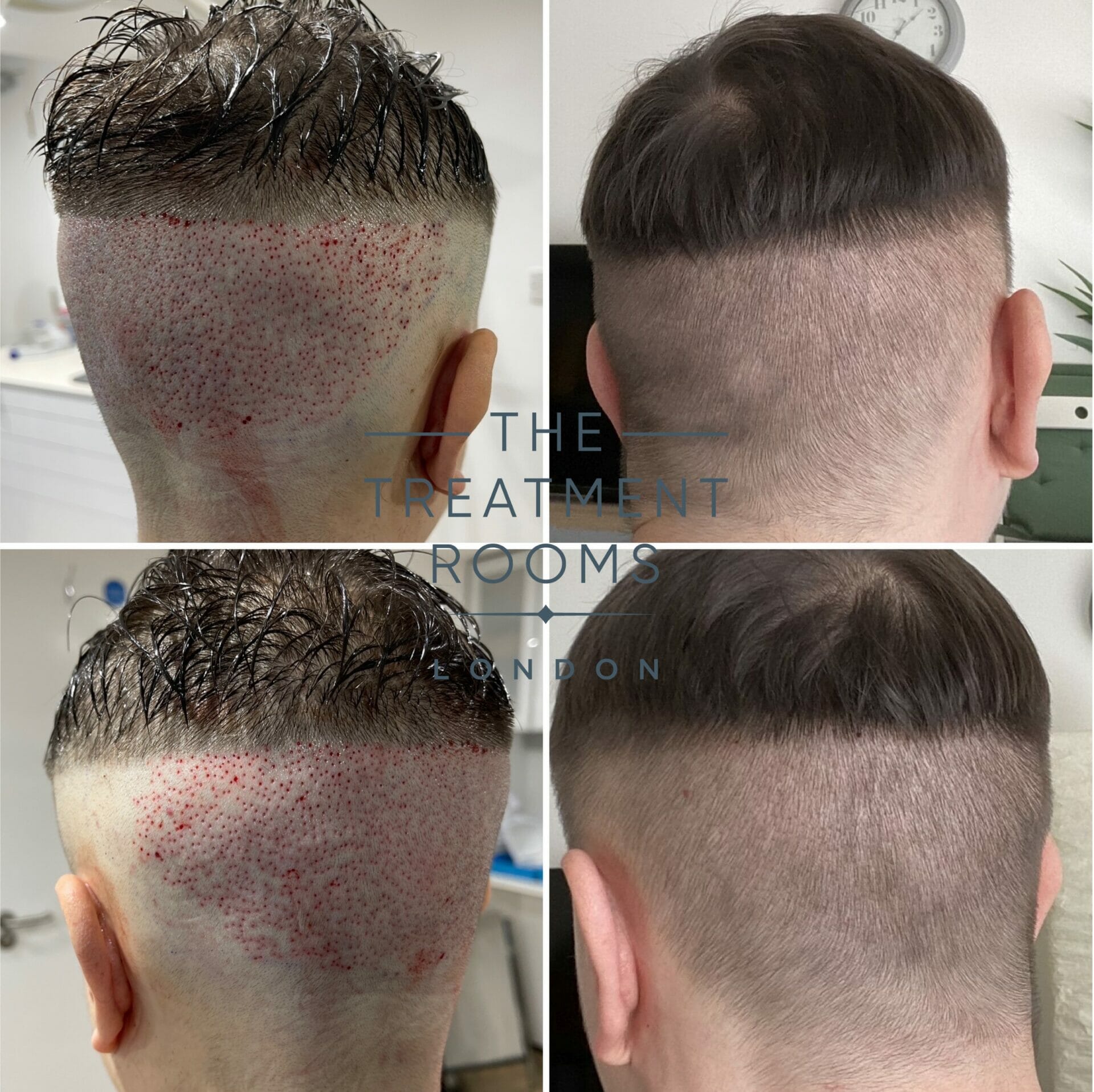 Who is an unshaven FUE hair transplant for?
There are numerous reasons why a UFUE could be suitable for you. UFUE hair transplants are for people who:
Need to return to work quickly, therefore cannot afford to wait for their hair to grow back. This can include people who have representative jobs, or who are constantly in the public eye. A UFUE allows them to undergo a hair transplant without anyone noticing.
Want to keep their original hair in the same style and length, both during and after the procedure. A UFUE hair transplant can work especially well for people with long hair.
Are daunted by the prospect of shaving their head. They may have always had long hair, or simply don't like the idea.
Are happy to have a more gradual hair transformation than after a standard FUE hair transplant, as hair regrowth following a UFUE typically takes longer.
Unshaven FUE hair transplant recovery
After you've had your UFUE hair transplant, the aftercare and recovery process is similar to the period following an FUE hair transplant. However, with a UFUE, patients can return to work quicker, whereas, with a normal FUE recovery, patients are advised to wait 1 week before going back to work.
Despite the shortened time for resuming daily activities, you can still expect a degree of swelling and redness for the first two days or so after the procedure. You might be given painkillers for any soreness or discomfort.
During the recovery period, you should follow your aftercare instructions closely. These are likely to include advice such as:
Sleep with your head in an elevated position
Avoid washing your hair for a few days, and when you do, letting it air-dry
Benefits of an unshaven FUE hair transplant
An unshaven hair transplant is a complex procedure that requires a highly skilled surgical team. UFUEs are favoured by people for many reasons, including:
Being able to return to normal activities quickly, with no disruption to everyday life
Your original hairstyle can be maintained
Because your existing hair is kept long, the total cosmetic recovery time for a UFUE is less than for a standard FUE transplant as you are able to comb hair over areas of surgery
London Unshaven FUE Hair Transplant
As a London hair transplant clinic we often see patients who work within the public eye and in senior positions whereby discretion is key. Having an unshaven or minimally shaven hair transplant can be an important part of their decision making process. We are able to take you through your options when it comes to having an unshaven hair transplant.
Unshaven FUE hair transplant results
So when can you expect to see results following an unshaven FUE hair transplant? Here is an approximate hair transplant timeline:
Month 1: During the first month following your UFUE, the healing process will take place, and you must follow the aftercare instructions that you are given. The swelling and redness you may have encountered during the first few days will subside, and compared to a normal shaven FUE hair transplant, there should be fewer visible scabs to cause irritation. Any shedding hair that you notice is a natural part of the hair growth cycle – your new hair is forming in the follicles.
Month 2: Your transplanted hair will be in the resting phase before the old hairs fall out and new hairs form to take their place. For this reason, you may not notice significantly thicker hair in the recipient area yet.
Month 3: By this time, the recovery process is out of the way and your new hair will be growing gradually. Remember, an UFUE grows at the same rate as a normal shaven FUE and there is not much you can do to speed up the process, aside from considering medication like Minoxidil.
Month 4: You may notice a slight thickening at the recipient area where your new hair has been implanted, but as these new hairs are typically 'wispy' in appearance, a discernible difference may not yet be visible.
Months 5-12: During this period, your transplanted hair will continue to grow. And by around a year after your procedure, you will be able to see the full results of your UFUE hair transplant.
Unshaven hair transplant cost
An unshaven hair transplant tends to be more expensive as the procedure is more delicate and labour intensive. However, if you are concerned about having your head shaved for a hair transplant, then this will be the best option for you.
A UFUE is sometimes priced 'per session' or 'per area', and you can expect to pay from £3,000 for a session of surgery.
UFUE hair transplants at Treatment Rooms London
At Treatment Rooms London, we can offer UFUE as well as traditional FUE hair transplants.
Book a consultation today with one of our expert surgeons to discuss your hair treatment options. Our experienced professionals will be able to examine your hair and create the best hair transplant plan for you.
For more information about hair transplants, please visit our page on 'how does a hair transplant work?'.